Productions
Below is a selection of our recent productions.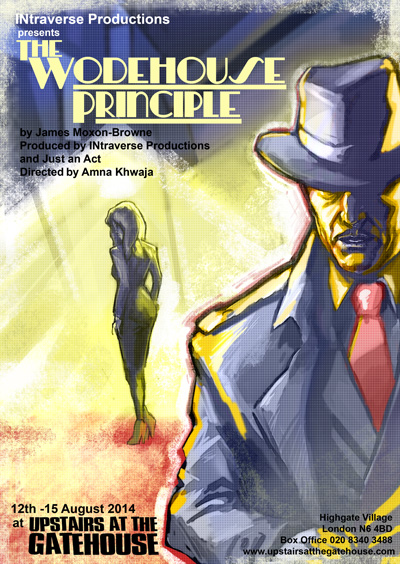 The Wodehouse Principle:
Dark comedy, psychosexual thriller - A young writer has picked up a lost mobile phone on a night out and a whole new dark story unfolds, reality and fiction blurs, this takes place in his small apartment.

A Chandelier in my Kitchenette (The Cockpit Theatre, Theatre for a Pound, 2012)
Miss Diagnosis is turning 50 this year, now troubled by his fear of lost youth he only finds solace with his dolls. Where will his hatred of short sleeved shirts, fantasies of millennium style fame, and desire for beautiful nails lead? Now memories of a little boy in Glasgow come flooding back…
The show was taken up to the Brighton Fringe under the new title In Capacity House and was co produced by Intraverse productions and Directed by Tessa Hart.
Performed By:
Ken McLoone
Paul Lawrence-Thomas
Creatives:
Director : Amna Khwaja
Set Designer : Valentina Esposito
For Jimmy (The Cockpit Theatre, 2011)
For Jimmy is new short play which was performed at The Cockpit Theatre as part of their 'Theatre In The Pound' series of evenings, showcasing new writing.
Cast:
Mark/Ken McLoone
Jimmy/Ali/Offue Okegbe
Malcolm/James Moxon Browne
Creatives:
Director : Amna Khwaja
Tech/Stage Manager : Dan Crews
Drama Bites (Etcetera Theatre, Camden Fringe, 2011)
A play derived from improvisation, a joint production with Just an Act Theatre.
Drama comes full of promise. It can be the stuff of dreams. But sometimes the line between reality and fantasy can be dangerously elusive. And sometimes you have to be careful what you wish for...
'Drama Bites utilises an episodic plot line, this divisive technique allowing its audience to become swept up in a surging accumulation of psychological disturbance.' Helen Richardson for On The Fringe
Cast:
Jane Lawler
Helen Cylwik
Sheila Parry
Ken McLoone
Caolfionn Murphy
Edward Anderson
Creatives:
Director : Amna Khwaja
Producer : Ken McLoone
Tech/Stage Manager : Daniel Crews
Set & Costume Designer : Bridgette Cocchiola
The Magic Hour (Soho Theatre, 2010)
This supernatural, black comedy follows successful artist Emma as she celebrates her 50th birthday with her husband Jeremy in the hour that the British summertime ends, on Halloween. Jeremy's present to Emma, a painting he commissioned an artist to paint for her, is tainted with black magic and it knows Emma's darkest secrets. Will she be forced to reveal them?
Cast:
Emma/ Tessa Wood
Jeremy/Paul Campion
Creatives:
Director : Amna Khwaja
Casting Director : Amy O'Neil
Set Designer : Valentina Esposito
Installation (New End Theatre, The Lost Theatre Festival, 2009)
By Yvonne Sampson
Enter our installation. Redesign your mind. A chilling exploration of the darkest side of art. This was part of The Lost Theatre festival and reviewed by the Times Critic Jeremy Kingston.
Cast:
Trix - Tess Mawle
Fizz - David Swain
Hazel - Kath Perry
Phillip - Stuart Sessions
Pete - Duncan Wilkins
Creatives:
Director : Amna Khwaja
Co Producer : Stuart Hurford/Lost Theatre
Set Design : Gabrielle Williams
Darlings You Were Wonderful! (Kings Head Theatre, 2008)
A hilarious comedy which takes place backstage in a dressing room. An all women theatre group are to perform a little known Spanish seventeenth century drama in a festival. Before curtain up, tensions mount in more ways than one and a cast member is missing! Will they win the adjudicators approval they desperatley need to gain the festival title?
Author:
Cast:
Judy/Roslyn Ure
Irene/ Rachael Pennell
Vanessa /Alex James
Eve / Isabel Barbuk
Liz/ Louise Jackson
Creatives:
Director : Amna Khwaja
Assistant Director : Keiko Sumida
Set Designer : Alicia Farrow
Stage Manager : John Dunne
3Way (Etcetera Theatre, 2008)
Directed By Amna Khwaja. The UK premier of a play by Dan Averitt, Jon Mikkelsen and John Trones, where it's a case of he said, he said... he said. Spending a night with friends can always have unexpected consequences, but when one of them has their own agenda, the other two might just have to play along! The UK premier of the hilarious American gay sex comedy 3 Way tells the story of three young friends centred around a night of accidental drunken debauchery, where one of them knows more than he's letting on. November 18-December 7, 2008
Authors:
Dan Averitt
Jon Mikkesen
John Trones
Cast:
Matt/ Alex Gatehouse
Ethan/ Ray Thacker
Alex / Adam Hall
Creatives:
Director : Amna Khwaja
Co Producer : Stuart Hurford
Set/Costume Design : Mike Lees
Lighting Designer : Jonny Milmer